Our Story
Between the sea and the mountains, with the shining sun reflecting into the crystal waters and the bright sand of the magical Forte dei Marmi, was born the idea of our brand FORTISSIMA.
Our swimwear collection is designed for bold and elegant women, looking for both comfort and femininity.
Our desire is to make you feel unique and precious.
LEARN MORE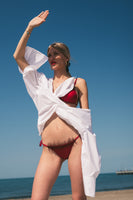 GET IN TOUCH WITH YOUR SENSUALITY & BE INSPIRED BY THE NATURE
Each Fortissima creation is exclusive and entirely Made in Italy. Passion and search for details are core elements of the project.
The style and the design of each product are conceived in order to guarantee the best quality standards thanks also to the fine fabrics and artigianal manufacture.
A versatile collection of swimwear to be used any time and in every occasion of the day and night, from relaxing moments on the beach to the magical summer evenings
D'estate le mani del vento muovono invisibili fili nell'aria, che uniscono le onde, i capelli, i pensieri.



Fabrizio Caramagna